Is it possible to imagine a world without coffee tables? We don't think so! This petite piece of furniture lets you rest of your cup of joe at an arm's length. Yup – that's why it's called a "coffee table". But that's not it!
It is seen as a major decorative element in a living room. It is the perfect spot to place your magazines and coffee table books! Given the kind of flair and panache they bring forth to a living room, we present to you 7 coffee table designs that are instant attention grabbers:
1. Pouf pouf, so cute
Fun and relaxed – that's the kind of this coffee table gives out. This hand woven piece of furniture is a cute element in the living room. Imagine cuddling next to it – ha! This lovable coffee table is a delightful treat to the eyes.
2. Interlocking those legs
If you derive pleasure from chaos in your life, then this coffee table is perfect for you. With a simple glass top, this piece of furniture offers a graphic element to the living room decor like you can never imagine. What are your thoughts on this?
3. It's all about the (brass) bass!
A granite table top is so passe but the intricately-designed brass really adds makes one hell of a furniture piece. It's chic, sassy and very elite. Place it right in the middle of your living room to make a statement!
4. Three's a charm
Having just one coffee table is such the traditional way of decorating a living room. But adorning the same space with three tiny coffee tables is definitely a modern step in interior design. What do you think of such a set up? Too space consuming?
5. Stash your stuff
Having a coffee table with a secret stash is just an icing on the cake. While you can decorate the table with all kinds of props and accents, you can still keep the utilities neatly in that storage space. Quite a practical idea, isn't it?
6. Double duty in leather
This one's basically a wooden ottoman with a leather top. You can sit on it, place your magazines on it or simply let it be a centrepiece. Oh, it also makes a wonderful footrest. Imagine slouching on a comfy sofa bed with your feet resting on this ottoman/coffee table!
7. A trunk of treasures
If you have a traditional but rich taste in furniture, then this wooden trunk is a practical idea. You can not only place it in your living room but also store essentials inside it. Oh, and the metallic nailheads in a diamond pattern are simply beautiful!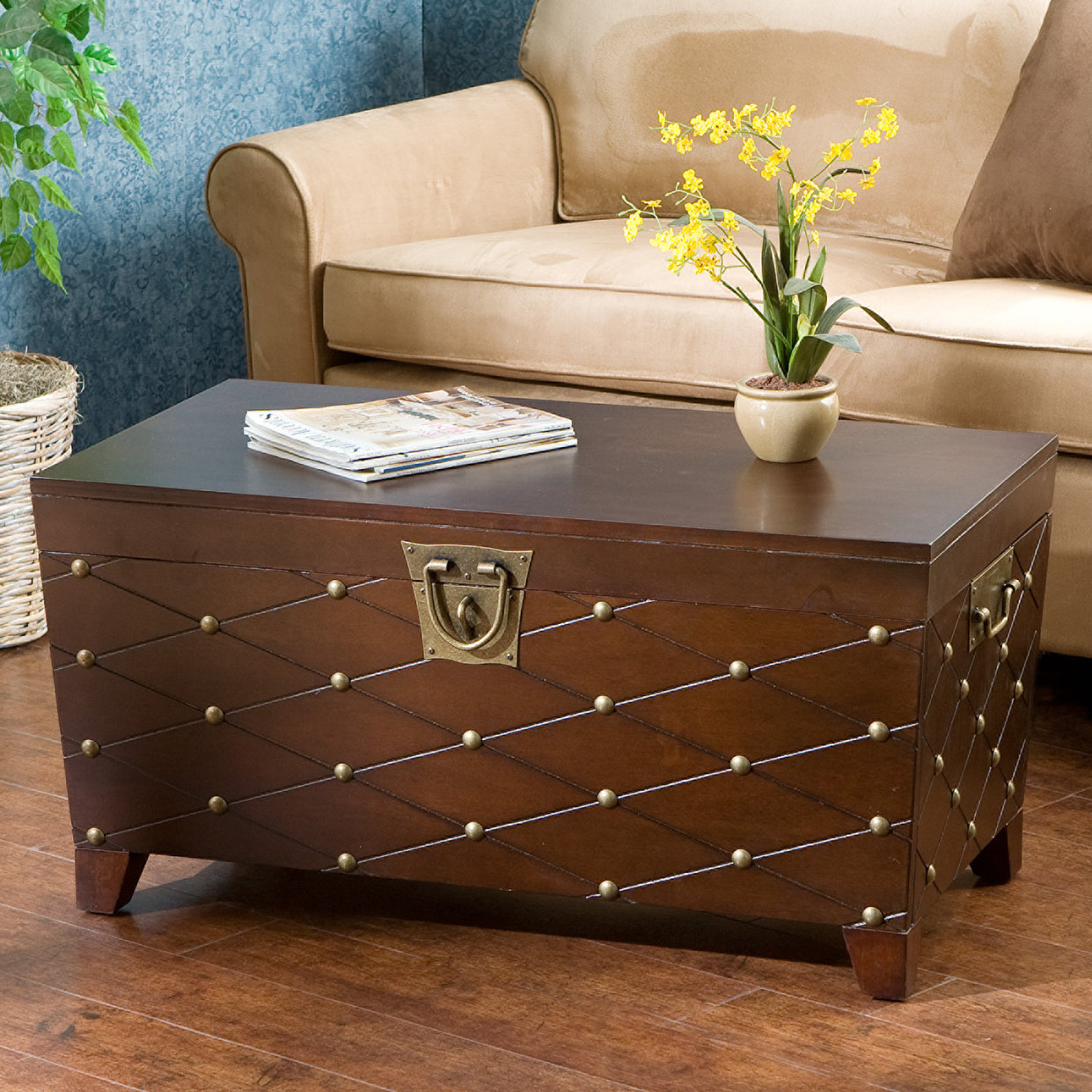 All of them are so unconventionally gorgeous and unique that it is hard to pick one. Which one did you like the best? Let us know in the Comments section.