"Every flower is a soul blossoming in nature."
– Gerard de Nerval
Floral prints and patterns are soft, subtle and of course – feminine! The kind of effect florals bring into any living space is just delightful. This interior style staple has been around for a long, long time and has refused to get off its throne ever since.
Quite interestingly, floral designs have beautifully but slowly evolved over the years and today, almost all households have something or the other that declares their love for "flowers". Even though this trend is somewhat perennial in nature, a slew of lovely floral themes for homes has never even once bored us.
As the "sometimes dreary, sometimes magical" monsoon season gets over and we move towards fall, now is the right time to instill a fresh life into your homes with pretty floral designs everywhere. From the living room and bathroom to fabrics and kitchen crockery – yes – we are talking about spreading the "floral magic" in every nook and cranny of the house.
We understand that flowers are not everyone's cup of tea. This is the reason why we have decided to give you a number of options that will certainly match everybody's decor preferences and tastes. Don't worry – we know what it takes to make a home feel like a home.
Let's explore some pretty picks here:
1. Wall
An empty wall is like an empty canvas for an interior designer, more so for a person who is looking to decorate his or her home. Enliven a dull room with a floral wallpaper. Apply it on just one wall of the room so as to avoid visual clutter. Cyan, fuchsia and orange are popular choice for wallpapers.
Rose, cherry blossoms and tulips are usually preferred more to other flowers when it comes to home accents. If wallpapers are not your cup of tea, then go for a wall sticker or decal as they cover only a certain part of the wall.
2. Bed & bath linen
The bedroom is an integral part of the house. If you are home, that's where you will spend most of your time. Therefore, make that space come alive with floral prints. Colour coordinate the curtains and bed linen for a balanced decor.
Bathrooms are often the most sedentary and dull part of the house; so what's better than florals to give them a little makeover? We won't advise you to replace the shower curtains, towels and other knick knacks with everything floral, but keeping the colour of the bed linen same for towels is certainly a good idea!
3. Kitchenware
Perk up the decor of your kitchen with crockery, mugs, bowls and other ware in effervescent floral prints. Pitch a perfect blend of enduring style and grandeur to the complete outlook of your kitchen with flower-inspired accessories and tools. Plus, floral kitchen accessories look so dainty and pretty that they will make your heart sing!
4. Home accents
Experiment with flora-inspired accents to transform the boring decor of a room into a colourful and animated one! Place a bright flower-patterned vase on the dining table and replace monochromatic or solid-coloured cushions with flower-coloured ones. Replace area rugs and curtains with floral accessories.
5. Artwork
If you want to celebrate "art" in your home, then do so by placing a lovely floral painting against an empty wall (in any solid colour, preferably white) and watch the space come alive conveniently. If it is a huge painting, make sure you don't place anything else on the wall. You can even decorate a cluster of paintings, if you wish to.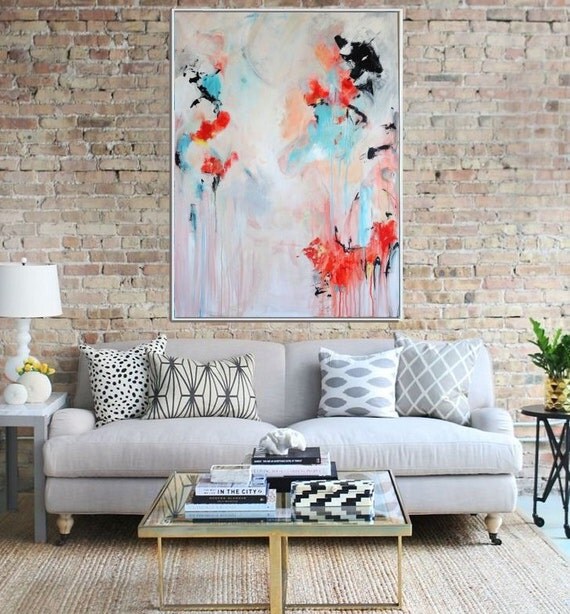 Create a subtle atmosphere of floral interiors in your home. Don't go overboard with the use of flowers. Make sure your home is chic after all the hard work you put in. Let your creative juices flow!